Pet Hair Cleaning
Back To Our Services
When your pets cover your carpets and furniture with more hair than you can accept, your options are limited. If it's just a small rug or cushion, it can be tempting to simply replace it for a new one. This is not a viable option for your carpets and larger upholstery items however. Cleaning pet hair can be both extremely time consuming and quite fruitless. If it's one of your least favorite chores, we think we have an answer for you. Our trained technicians know exactly how to remove the most amount of hair from almost all types of upholstery fabric available. With our high powered and purpose designed industrial equipment, we are able to achieve hair removal that is far beyond what would be possible with average domestic cleaning tools. We ensure all surfaces are expertly cleaned without causing any damage to and material. This is great for those with particularly valuable furniture, carpets or rugs.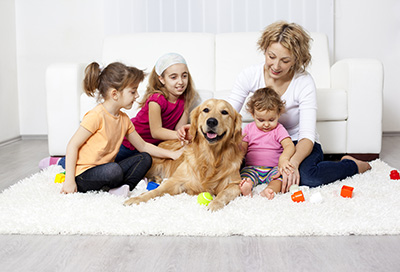 Hair Trapped in the Rug
Rugs are often made from thick dense furs or woolen materials. Oriental rugs are precious do to their multiple layers of fine woven organic threads. These types of fabric are like hair magnets. Almost exactly like a cluster of knotted wires, stands of pet hair can penetrate and intertwine with the many gaps and threads within these weaves. We use a range of comprehensive pet hair cleaning machinery that is specially designed to clear all kinds of dirt and stubborn mess. Warm water extraction is a particularly useful technique in pet hair removal. Our vacuums have the strength needed to apply pressure deep into the structure of various thick fibers. This is the key element that allows them to reach and extract deep planted hairs that conventional cleaners won't be able to.
Professional Pet Hair Cleaning
Different surfaces will require different level of care. In order to execute the most effective hair removal method possible, our experts will need to first build a sound assessment of your cleaning needs. We will then be able to advise you on the options that are possible and help you select one that meets your desires and budget. No mess is beyond our capability to clear up. We have successfully cleaned pet hair from all types of common home upholstery fabrics without causing any damage to them. Have your home made refreshed and hair free, and avoid the backbreaking torment of trying to pick out each and every strand by yourself.
Contact us Now for More Information!